Alex and Rachael were both long term unemployed until WorkAdvisor took them on through the Kickstart scheme, a government initiative to get unemployed young people back into work.
"After gaining a first-class honours degree I applied for 100 jobs and got rejected from them all before Kickstart came around."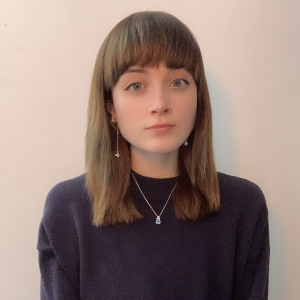 Rachael's story
First-class honours student Rachael Yonoff credits the government's Kickstart scheme with boosting her confidence and helping her to get used to working life after several years as a student.
Rachael, 23, from Southampton, gained her qualification in digital culture from King's College, London in September 2020, but like many graduates struggled to get her foot on the career ladder, particularly during lockdown.
"After a short time off, I started applying for different graduate schemes in software development and technology. I was applying for lots of things in the creative and technology industries and was not fixated on one particular role," she said.
"But I got so many knock backs. I reckon I applied for 100 jobs and got rejected from them all. There were no face-to-face interviews during lockdown so there was no chance to impress. Each application could take an hour or two and with every rejection that comes in, you start to lose motivation and think you are not good enough. It eats away at your confidence.
But going on the Kickstart scheme and working in an office with other people has made a massive difference, given me that confidence back and helped me to get used to working. A lot is talked about mental health and it has certainly been good for my mental health to have a job and a purpose."
Rachael joined Southampton-based recruitment firm WorkAdvisor in March, after originally hearing about the kickstart scheme from her parents. "I applied for a marketing position and didn't get that but was told there was another role as 'recruitment co-ordinator'. I thought that sounded like a good job to learn in and to boost my confidence."
Rachael now helps to find suitable candidates for WorkAdvisor clients, such as the Ordnance Survey group and Microsoft. She says there have been numerous other benefits of the Kickstart scheme, including taking responsibility in the workplace. "I like the fact that I have the chance to explore other things in recruitment. For example, I did coding at University and we are talking about producing a coding pack for Kickstart people to learn on."
Another unexpected benefit for Rachael is that she has learnt about how to create a stand-out CV, which will be very useful when she applies for other roles in the future. "Because I work in recruitment, I look at hundreds of CVs a day and see the gaps, what works and what doesn't work. Also, being able to put this role on my CV looks so much better than not having work experience."
In the future, Rachael has high hopes of joining a graduate training scheme related to her degree, but for now is keen to carry on learning at the recruitment firm. "The Kickstart scheme has been a great opportunity and I'm really enjoying it."
WorkAdvisor is a Kickstart scheme gateway organisation, we work with the DWP to get young people work experience and currently have over 200 placed with a variety of employers nationally. If you would like to find out more about how the scheme can work for your business call us on 02380 986171 or visit https://employers.workadvisor.co.uk/