Alex and Rachael were both long term unemployed until WorkAdvisor took them on through the Kickstart scheme, a government initiative to get unemployed young people back into work.
"Some people with a degree think they should be aiming higher, but I tell them that it's all about getting experience in the workplace."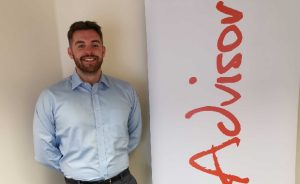 Alex's Story
Alex Harrigan feels there are numerous benefits of the Kickstart scheme and that even those with strong qualifications should not shy away from a position that pays the minimum wage.
The Kickstart scheme is designed to get unemployed 16-24 year-olds back into work and is fully funded by the government.
Alex, 23 from Southampton, works for recruitment firm WorkAdvisor on the Kickstart scheme – helping businesses and individuals who WorkAdvisor have placed on the scheme. He is a graduate with a master's degree and says everyone should be open-minded about it.
"I did an interview day at a job centre, talking to graduates like me, and some think that they should be doing better, but the Kickstart scheme is all about getting experience. The experience I've got in this role is second to none."
At WorkAdvisor, Alex has enjoyed the responsibility he's been given and gained confidence from dealing with people over the phone. He has the flexibility to offer suggestions to employers about how they might attract more people on to the Kickstart scheme and to liaise with employees to ensure the scheme is working well for them.
"You learn about what it's like to be in a proper role. I tell people who are considering the Kickstart scheme not to worry about the money in the short term and look at the benefits."
After obtaining a degree in history and politics at the University of Leicester, Alex went on to gain a distinction in a master's degree in International Relations and Affairs.
However, he struggled to find work and applied for a Kickstart role after being alerted to the scheme from his work coach at the job centre.
"My dissertation was in the safety and security of nuclear weapons and ideally I would like to pursue a career in that area – making nuclear weapons safer. It's a niche are and difficult to get into.
I started off looking for jobs in the nuclear field but quite quickly realised I wasn't getting anywhere, so started applying for jobs everywhere but no-one was interested. I was looking for jobs for months, sometimes applying for 10-15 a day. It can be soul destroying because you are suddenly back at the bottom of the pile, you start to lack confidence and everything seems daunting.
It was great that this role turned up. There's no doubt that I would be absolutely miserable if I was still at home looking for a job."
Alex remains very ambitious but is currently happy to be learning each day in his Kickstart role.
"My dream would be to go into policy making through research positions, but that's something for the future. At the moment I'm enjoying this role."
WorkAdvisor is a Kickstart scheme gateway organisation, we work with the DWP to get young people work experience and currently have over 200 placed with a variety of employers nationally. If you would like to find out more about how the scheme can work for your business call us on 02380 986171 or visit https://employers.workadvisor.co.uk/